The Wolves is the twelfth chapter of The Book of Three. Here the protagonists are driven toward their goal by supernatural forces whose power can be unpredictable, as can the enchantments enacted by the heroine. Themes of loyalty and self-sacrifice are explored.
This page contains spoilers. If you do not wish to be spoiled, do not read further.
Plot
Pursued by the
Cauldron-Born
,
Taran
decided that he and
Fflewddur Fflam
should turn and fight the deathless warriors, in order to give
Eilonwy
and
Gurgi
a chance to escape and make their way to
Caer Dathyl
.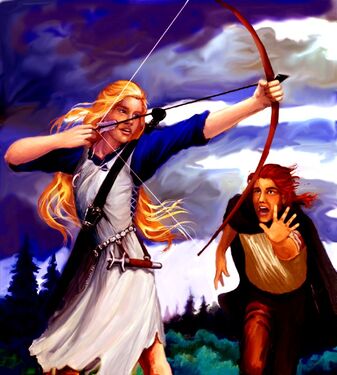 Taran protested, unheeded, as Eilonwy tried an enchantment -- a magic web that dropped down from a loosed arrow -- but it failed to form "into a big sticky rope" as
Achren
's might have done. As the
Companions
braced for the Cauldron warriors' onslaught, the deathless men suddenly turned and galloped away. Taran explained, as Gwydion had told him, that the Cauldron-Born could only stay a limited time from
Annuvin
. Taran expressed equal admiration for Eilonwy's spell and for her courage, but she grew cross with him for perceived slights. He resigned himself to her unpredictable nature.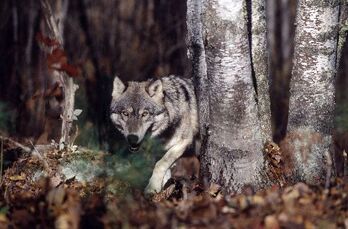 Next day, Gurgi's injured leg worsened, and Fflewddur counseled that they should cross the River Ystrad into the hills. In the valley, the companions recognized the gathered forces of the Horned King. Thankful to be ahead of the war host, the small band forded the Ystrad and moved into the foothills of the Eagle Mountains. Gurgi, sickened by his injury, stopped eating even as wolves began to pursue the group. Taran decided to give Melyngar free rein and she soon disappeared with Gurgi. Suddenly, a wolf emerged and sprang at Taran.
Community content is available under
CC-BY-SA
unless otherwise noted.