This is about the book chapter. For the enchanted sword see Dyrnwyn.
The Sword Dyrnwyn is the tenth chapter of The Book of Three. Here an item of legend is examined and the full backstory of the new protagonist is disclosed, before the hero decides on a certain course of action that brings the group together into one shared purpose.
This page contains spoilers. If you do not wish to be spoiled, do not read further.
Plot

Taran shared out provisions for a meager breakfast, not knowing when or how they might replenish their stock.
Eilonwy
examined the black-scabbard sword that she had taken from
Spiral Castle
, which according to the Old Writing twined around the hilt and sheathe, was called
Dyrnwyn
. Eilonwy refused to let Taran hold it, snatching it away from him despite his frequent insistence that he be allowed to draw it, for she saw a symbol of power on its scabbard that forbade its being drawn.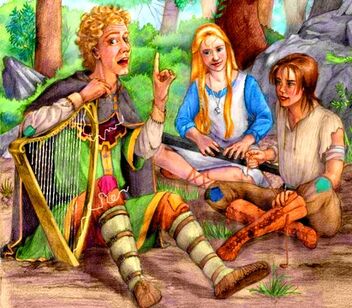 Fflewddur Fflam
, after mistranslating the inscription, confided that he was not an official bard, then explained that he was the ruler of a small
kingdom
, but did not wish to be called "sire" during his bardic travels... even though he had failed his trial before the Council of Bards. The Chief Bard
Taliesin
had given him his
harp
, which broke a string (or strings) each time Fflewddur 'readjusted' the facts.
Taran asked Fflewddur to tell him the quickest way to Caer Dathyl -- having made up his mind to warn the Sons of Don of the rise of the Horned King -- and to conduct Eilonwy to her people. Eilonwy resisted this pronouncement, and Taran quickly relented, saying he realized it was best they all travel together, for they would stand a better chance of reaching their destination. Fflewddur accepted Taran's authority as though it were Gwydion's, but when he claimed to have carved his way through walls of spearmen, six harp strings broke.
Community content is available under
CC-BY-SA
unless otherwise noted.