The Potter's Wheel is the nineteenth chapter of Taran Wanderer. Here the hero must face, once again, his own failure to achieve something he ardently wishes to master.
This page contains spoilers. If you do not wish to be spoiled, do not read further.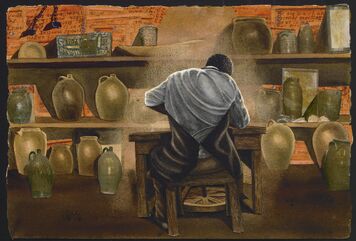 Plot
In Commot Merin of the Free Commots, Taran offered to shoulder a mud-delving man's load of mud buckets and found the burden more than he could bear; he gave the man back the load and was astonished to see the man lift the buckets easily. Inside the man's hut Taran saw a variety of ceramic wares, and quickly recognized the work as that of Annlaw Clay-Shaper, the master craftsman about whom Fflewddur Fflam had told him.
Taran discovered a true love of pottery and asked Annlaw to teach him his craft.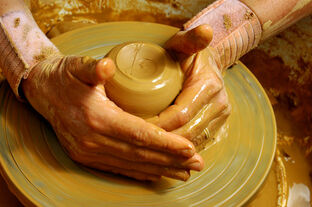 Annlaw agreed, and spent a long time teaching Taran, who after many failures, produced one that was "Beginner's work ... but not to be ashamed of." Heartened by this early success, Taran nonetheless found to his dismay that he could not master the skill of pottery, the one skill he most desired to learn.
Annlaw consoled him and suggested he might stay on in Commot Merin, to help him with his work. He asked Taran to take a cartload of wares into Commot Isav, and Taran, still despondent over his failure, consented.
Community content is available under
CC-BY-SA
unless otherwise noted.