The Pledge is the twentieth and final chapter of The Castle of Llyr. It offers final clarifications on the preceding action, and ties up the story with a new pledge, a loving bond that seems to hint at a possible future for the hero and heroine.
This page contains spoilers. If you do not wish to be spoiled, do not read further.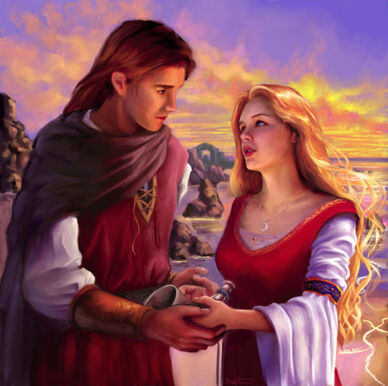 Princess Eilonwy awoke with her memories (and feisty nature) intact. She told the Companions how Magg had tricked her (though she knew he was up to something and wanted to discover it herself), kidnapped and gagged her, causing her to drop her bauble without being able to tell him. She remembered little of the episode offshore. Before leaving the sea, walking along the shore with Taran, she found a ceremonial horn that had washed ashore, which she pronounced was "all that's left of Caer Colur". She gave it to Taran as a pledge that she would not forget him during her tenure at Dinas Rhydnant. In return he could pledge only his word in return, but "the word of an Assistant Pig-Keeper ... shall do very well indeed." He mentioned the royal plan to engage her to Prince Rhun; for his taking this seriously she insisted she wasn't speaking to him anymore, but clarified "At least... not for a little while."
THE END
Next in The Chronicles of Prydain:
Community content is available under
CC-BY-SA
unless otherwise noted.