This page is about the book chapter. For the winged creatures, see Gwythaint.
The Gwythaints is the fourth chapter of The Book of Three. The theme of the unprepared hero develops here even as the villain's purposes are revealed and a new course of action decided on.
This page contains spoilers. If you do not wish to be spoiled, do not read further.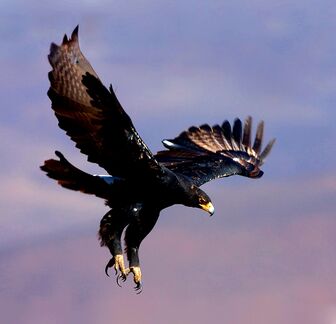 Plot
Taran
and
Prince Gwydion
followed
Gurgi
's directions to the banks of the
Great Avren
river, where he had last spotted the "piggy". As the pair were crossing the river, Taran almost drowned because he believed he would be able to swim, despite never learning the skill. Upon reaching the other side, they were attacked by
gwythaints
. Gwydion rode
Melyngar
into the woods with Taran behind him in the saddle. The prince lamented the encounter, explaining that gwythaints were messengers -- the Eyes of
Annuvin
. He went on to describe, to Taran's horror, the deathless
Cauldron-Born
.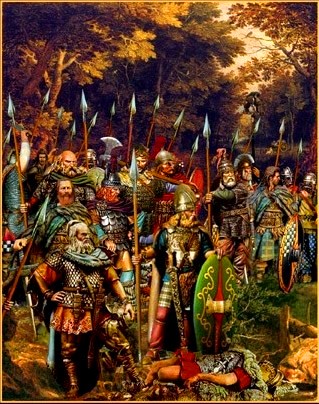 Later, Gwydion quartered the land in an intensive search for signs of
Hen Wen
, but he found nothing. He went over the possible explanations, including the distant sanctuary of
Medwyn
. The next morning, hearing a disturbance in a bush, Taran leapt in and discovered none other than Gurgi.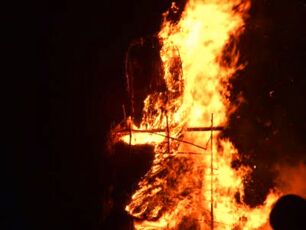 Taran was angry, but Gwydion was touched by Taran's genuine, if foolhardy, effort at protecting him. Gurgi reported on the
Horned King
, then led them to a ridge with a view of a war rally, replete with wicker basket burnings and the screams of dying men. Gwydion deduced that
Arawn
had commanded the Horned King to summon a force of arms from among the
cantrevs
of Prydain, and to march on
Caer Dathyl
. The Prince of Don decided his course must be to warn his kinsmen at the northern fortress.
While riding away, the trio were spotted by enemy riders.
Community content is available under
CC-BY-SA
unless otherwise noted.