This page is about the book chapter. For the enchanted object see Black Crochan
The Black Crochan is the fifteenth chapter of The Black Cauldron. Here the hero makes a major sacrifice to obtain the object of the story, and learns of yet another sacrifice that must be made to dispense with it. One of the most important chapters in this book or in the entire series, the theme of noble self-sacrifice is given full development, as is the grief that comes from that loss, no matter how noble.
This page contains spoilers. If you do not wish to be spoiled, do not read further.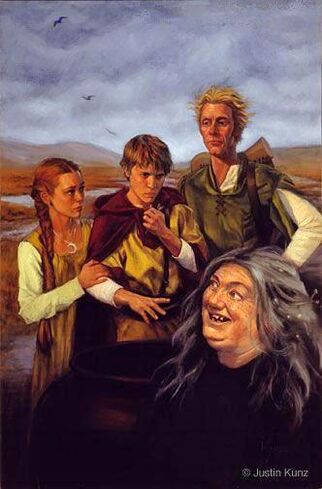 Plot
Orddu
said farewell and sent her love to
Dallben
, but
Taran
offered her
Adaon's brooch
despite
Eilonwy
's protests. Orddu agreed with Taran that she had known of it all along, but the clasp must be given willingly -- like knowledge, truth and love itself -- or its great power would be broken.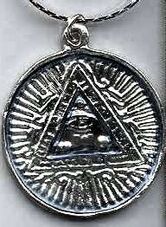 Taran, filled with the pride of strength and knowledge, struggled with the exchange -- and made it. He nearly cried out in anguish as he dropped the clasp into Orddu's hand.
The Companions proceeded to batter the Black Crochan with hammers and bars, to no avail. Orddu explained that the only way to destroy the Cauldron was for a living person to climb into its maw and willingly give their life in it. The enchantresses snapped the cottage door shut, and Taran decided to take the vile pot to Caer Dallben. The companions lashed the Crochan to their horses while steadying it behind: an arduous task. At camp that night, Eilonwy expressed her admiration for Taran's choice, saying that no one could take that act away from him. Pride and new strength budded within him, but as he looked at the looming Cauldron and thought of the brooch, he put his face in his hands and wept.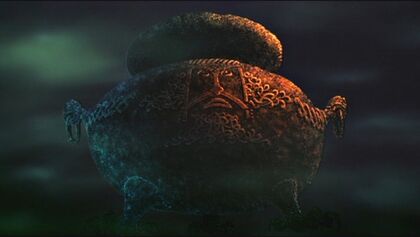 Community content is available under
CC-BY-SA
unless otherwise noted.