Shadows is the fourth chapter of The Castle of Llyr. It develops an air of mystery and increases the danger to the heroine, again placing the hero in an uncomfortable position between his keeping a sworn secret and his wish to reveal the truth for her safety's sake. Bumbling, accidents and mistakes seem to take part in the plot development as well.
This page contains spoilers. If you do not wish to be spoiled, do not read further.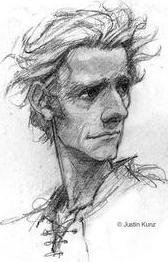 Plot
At a royal dinner party in
Dinas Rhydnant
,
Fflewddur Fflam
played his harp; afterward,
Taran
tried to convince the bard to sleep indoors, but wanting no trouble with
Magg
the Chief Steward, the bard retired to the stables. Taran set
Gurgi
and
Kaw
at the door to
Princess Eilonwy
's chamber to look out for danger. He then went out to the stables, looking for
Gwydion
who was disguied as a lowly shoemaker; instead he ran into
Prince Rhun
.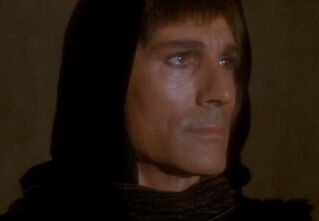 After parting ways with the cheerful but clueless princeling, Taran glimpsed a figure moving in the shadows of the courtyard. Thinking it might be Eilonwy, Taran pursued the mysterious figure outside the castle and quickly realized it was Magg. On a rocky slope by the seashore,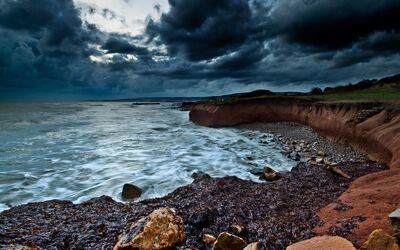 Taran watched as Magg sent torch signals to a ship moored out in the bay. Gwydion appeared to stifle Taran's further pursuit, and explained that
Achren
was aboard that ship and that "the game [was] not played out". Back at the castle and from outside the Steward's window, Taran watched Magg brandish a dagger, grimacing, before turning to admire himself in the mirror. At Eilonwy's chamber Taran relieved Gurgi, but when the Princess awakened and found the Assistant Pig-Keeper on her threshold, she was displeased and walked away to breakfast. Trying to pursue her, Taran was intercepted once again by Rhun, who bumbled about before Taran moved on to the Great Hall... where Eilonwy was nowhere to be seen. Nor was Magg.
Community content is available under
CC-BY-SA
unless otherwise noted.