Prince Ellidyr Son of Pen-Llarcau was an arrogant young prince, the last son of his line, who received no inheritance apart from "his name and his sword". He was deeply sensitive about his poverty, and covered this with arrogance, treating with disdain and contempt all whom he did not see as social equals. Ellidyr's closest and indeed sole companion was his ill-tempered steed Islimach, who would bear no rider but him.
Physical Description
Ellidyr was a few years older than Taran, with tawny hair, black eyes and pale skin. His costly garments had seen much wear, and he wore his neatly mended cloak in such a way as to hide his threadbare attire. He was also mightily muscled and possessed enormous strength.
This page contains spoilers. If you do not wish to be spoiled, do not read further.
Biography
Shortly after arriving at Caer Dallben, Ellidyr quarreled with Taran, who rashly fired a childish insult at him; their interactions afterward were marked with friction. Adaon, with the aid of his enchanted brooch, saw Ellidyr's pride as a "black beast," sitting on Ellidyr's shoulders and tormenting him. Taran, too, came to see this symbolic beast.
When Taran, Princess Eilonwy, Fflewddur Fflam and Gurgi were bogged down by the Black Cauldron, Ellidyr agreed to help them on condition that he receive all the honor of recovering the Crochan himself.
Even after this deal was struck, however, a blood madness seemed to overcome Ellidyr, and he tried to kill all four of the Companions, and nearly succeeded in drowning Taran. Later, after Ellidyr had been captured by King Morgant along with Taran and his friends, Ellidyr at last came to realize his mistakes. He apologized, then made amends by leaping into the Crochan, thereby destroying it -- a fatal act which he knew would be his last. His mare, Islimach, threw herself from a cliff after her master's death. Ellidyr was buried with honor, along with Islimach, for the hero that he became.
Persona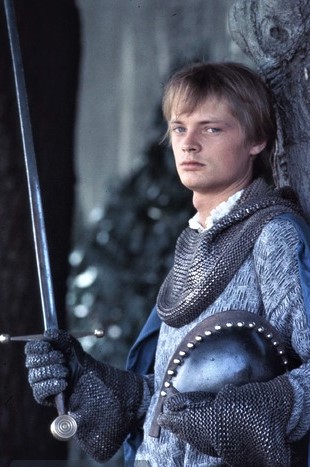 Though arrogant and desperate to attain honor, Ellidyr was not evil and swore to Taran that, while he would have taken credit for finding the Crochan, he would have seen it destroyed rather than use it to create Cauldron-Born. Despite their obvious differences, Ellidyr and Taran were in fact very similar. Both were headstrong, brash, and sought honor and glory. However, Taran valued his companions and their mission over his own honor. Ellidyr came to realize that there were more important things than his own glory; after his noble sacrifice he was honored among all the fallen heroes of the quest of the Black Cauldron.
Mythical Source
Parallels could be drawn between Ellidyr and one of the villains of The Mabinogion, Evnisien, who -- although he was more villainous (murdering his own nephew to continue a war) -- also sacrificed himself by throwing himself into the cauldron of that story, which was the basis of the Black Crochan.
Community content is available under
CC-BY-SA
unless otherwise noted.