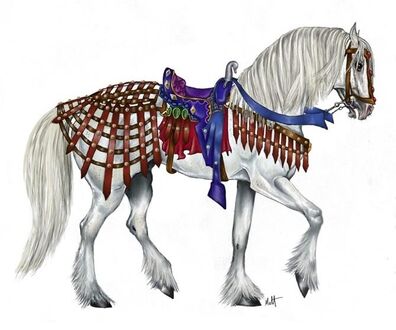 Melynlas
was a stallion, the "beloved steed" of
Taran of Caer Dallben
. Melynlas was the colt of
Melyngar
, the "wise" white mare belonging to
Prince Gwydion
. Gwydion gave Taran the stallion as a gift after the defeat of the
Horned King
, for service and loyalty to the
Sons of Don
.
Description and Persona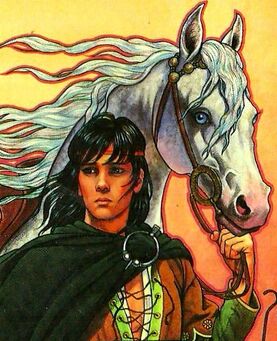 Melynlas was gray and silver-maned, and was among the most sure-footed and powerful horses in Prydain. He was also rather spirited and knew his rider well; Melynlas threw
Lord Goryon
and that lord's Master of Horse when they essayed to saddle him.
Biography
Taran received the stallion as a gift at Caer Dathyl, where presumably the horse had been bred and reared. At the end of the story the Assistant Pig-Keeper rode the stallion home to Caer Dallben.
Taran rode Melynlas from Caer Dallben through the Forest of Idris to Dark Gate; along the trail Prince Ellidyr drove his roan mare Islimach against Melynlas, and the stallion lost his footing, nearly plunging off the cliff along with Taran. From the ledge where they had tumbled, Ellidyr pulled and pushed them both back up; even Taran had to admit he had never seen such a feat of strength.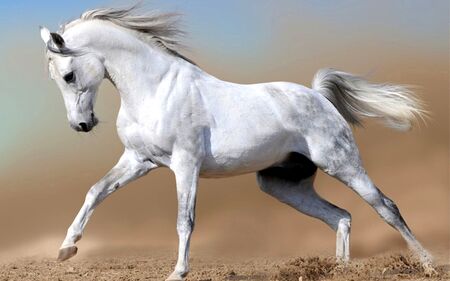 Taran then rode Melynlas in flight from the
Huntsmen of Annuvin
, into the
Marshes of Morva
from which the stallion and Adaon's bay mare,
Lluagor
, helped carry the
Black Crochan
. At last Taran rode him to the camp of
King Morgant
, where Melynlas was unhappily stabled until freed following the battle, and happily returned to Taran.
Melynlas remained safely in the stables at Caer Dallben during Taran's adventure with Princess Eilonwy on the Isle of Mona.
Taran rode Melynlas throughout his extensive travels across the width of Prydain, during which Melynlas was seized by Lord Goryon's men, but after bucking that greedy lord and his Master of Horse, the stallion was reclaimed by Taran, who cannily offered the powerful steed as a gift -- an offer pridefully rebuffed by Goryon.
Taran rode his beloved stallion throughout the attempt to recoup Dyrnwyn from Annuvin. The steed's sure footing availed both Melynlas and his master in the treacherous defiles of the Hills of Bran-Galedd.
Community content is available under
CC-BY-SA
unless otherwise noted.