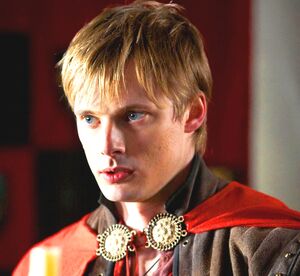 Geraint was in all likeihood the father of Princess Eilonwy. According to the laws of the House of Llyr, Princess Angharad could only wed an enchanter of great renown. Geraint, however, was a commoner with no actual powers of enchantment.
This page contains spoilers. If you do not wish to be spoiled, do not read further.
Biography
As revealed in the third tale of this book, Geraint had a talent for poetic storytelling, for charismatic performance, sincere expression of heartfelt emotion, and a little sleight-of-hand. With genuine pledges of love and devotion, he won the heart of fair Angharad. When Grimgower and Gildas -- two wizards who had come seeking the princess's hand -- derided Geraint as a fraud, Angharad defended him, calling him "the only true enchanter". The two eloped against the wishes of her mother, Queen Regat.
Geraint and Angharad fled
Caer Colur
, evading by virtue of their bond of love the enchantments of the jilted wizards. The language of their escape is so poetic -- as flowers bloomed in the lovers' snowy footprints -- that afterward it seems they must have shared a sweet and tender romance.
Whatever happiness they might have enjoyed, it was not to last. While Geraint's final fate remains unknown, we do know from the text of Taran Wanderer that he perished prior to Angharad's death. She died pitifully under Morda's skeletal hand, but Geraint himself may have run afoul of Achren; for the tale of Angharad's passing, during her desperate search for her kidnapped daughter, is tied up with that evil sorceress. Did Achren slay Geraint, or somehow bring about his death in order to abscond with young Eilonwy? These matters are hinted at but never fully revealed.
For that matter, Eilonwy's paternity is never disclosed as such in any of Lloyd Alexander's writings. However, we may reasonably conclude that Geraint was the father of the last Princess of Llyr; he was married to her mother Angharad, after all, and his non-enchanter origins are probably responsible for Eilonwy referring to herself as "half an enchantress".
Community content is available under
CC-BY-SA
unless otherwise noted.