Farewells is the twenty-first and final chapter in The High King, and the final chapter of The Chronicles of Prydain. Here one of the most heart-wrenching decisions in all of fantasy literature must be made; the writing of it caused author Lloyd Alexander to weep. Many readers have been baffled or disappointed by the choice the hero makes, but a close reading of the material makes it clear that he could not have chosen any other path without losing his moral authority or turning his back on the many promises he has made along the way -- both to himself and others.
This page contains spoilers. If you do not wish to be spoiled, do not read further.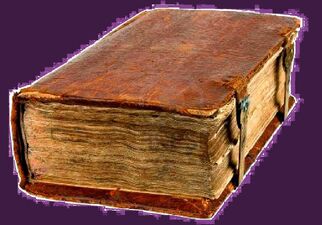 Plot
After his dream of Orddu, Taran realized there was much work still to do in Prydain. He had made many promises to himself and to the folk of its lands: to quicken Coll's garden and orchard at Caer Dallben; to finish the seawall at Dinas Rhydnant that King Rhun had so eagerly planned to complete; to help rebuild the regions of the Free Commots which had been ravaged in the war; to sow the Red Fallows and restore it to fertility; to "raise the fallen stones" of Caer Dathyl and "regain the treasure of memory" that once lay within that razed fortress's Hall of Lore. Thus Taran determined to remain behind: to refuse, in the words of Dallben, "not only joy and love but neverending life". His Companions, especially Gurgi, were saddened by his choice not to accompany the Sons of Don to the Summer Country. Eilonwy, wounded at first and believing Taran's feelings for her had changed, at last accepted his decision with a bowed head.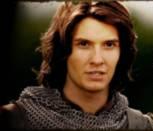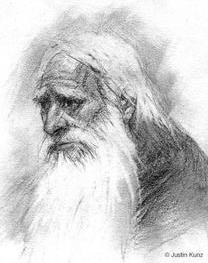 Dallben
warned Taran that the tasks he set for himself were "cruelly difficult"; that his efforts might well go unrewarded; that he faced the risk of failure and of dying forgotten, "unsung", even without a marker for his grave. Taran asserted that "the striving count[s] more than the gain", set aside his childish dreams of heroism, and accepted his lot as an Assistant Pig-Keeper.
With that, the old enchanter revealed that Taran had completed a path prophesied in The Book of Three whereby an orphan of "no station in life" would slay a serpent, choose a kingdom of sorrow over one of joy, and so succeed the Sons of Don as High King. Many years ago, Dallben had traveled to seek such a one to try to hasten the day; he found a baby hidden in the trees beside a battlefield of great carnage, without any token of parentage. Taran fulfilled all these prophesied criteria, and so was to be made High King.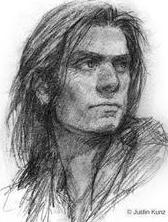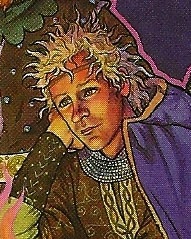 From them all, Taran received many parting gifts. Among these were a blue gemstone carried by Glew from
Mona
; an axe of
Fair Folk
craft from good old
Doli
, a croak of "Farewell!" from the wiley
Kaw
and a vigorous head-rubbing from
Llyan
; from
Fflewddur Fflam
the curling, golden string that was the last remnant of his
harp
; from Gurgi he received a coffer, taken from
Arawn
's treasure hall, which contained -- to the amazement of all -- the secrets which the Death-Lord had long ago stolen from the people of Prydain: "of forging and tempering metals, of shaping and firing pottery, of planting and cultivating." Gwydion avowed these were "perhaps the most precious of all treasures", while Fflewddur opined: "Who owns these secrets is truly master of Prydain." From Dallben, Taran received The Book of Three itself, although "it no longer foretells what is to come, only what has been". Gwydion could only offer a last word of wisdom: "a true king wears his crown in his heart". Eilonwy sadly offered her beloved friend her
bauble
. Yet when she protested against the injustice of having to leave Taran because of her powers of
enchantment
, Dallben offered the
Princess of Llyr
, too, a choice.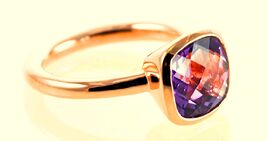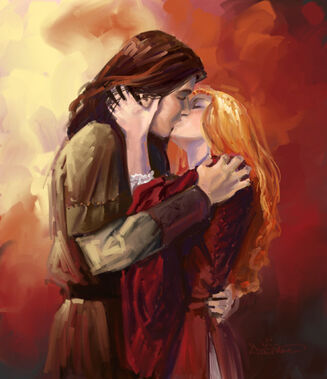 Thus did Eilonwy use her Fair Folk ring, which Gwydion had once given her, to divest herself of her inherited powers, and so remain in Prydain with Taran. At Dallben's prompting, the lovers clasped hands and pledged their troth; the companions wished the wedded couple happiness. On the threshold of Caer Dallben, ready to greet their amassed subjects, Eilonwy assured Taran she would be happy to give him advice in the matter of kingship. And so at last, the two were presented to a cheering crowd of followers as High King Taran and Queen Eilonwy of Prydain.
In the Book of Three, Dallben wrote a conclusion: "And thus did an Assistant Pig-Keeper become High King of Prydain." And in time, only the bards knew the truth of it.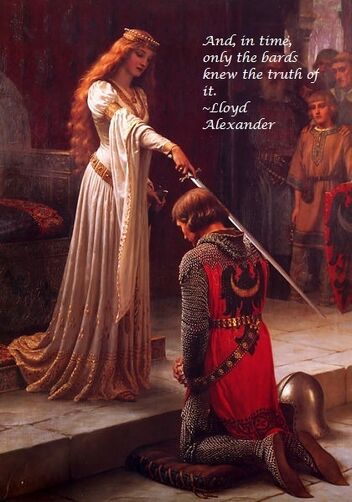 THE END of
The Chronicles of Prydain
by Lloyd Alexander
Community content is available under
CC-BY-SA
unless otherwise noted.