A Meeting of Strangers is the sixteenth chapter of The Castle of Llyr. Here the heroine's bewitched memory has a hurtful effect on the hero. Under the duress of her abduction, his love for her is becoming gradually more ardent. A rare bout of swordplay moves the action along briskly towards the story's final confrontation.
This page contains spoilers. If you do not wish to be spoiled, do not read further.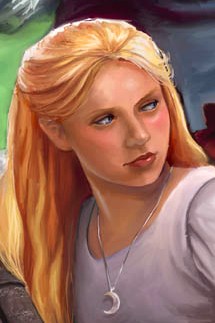 Plot
Princess Eilonwy
, having awakened at
Caer Colur
, introduced herself to
Taran
while under a strange spell. She did not know Taran or any of the names of her former
Companions
.
Her memories briefly stirred, for he had interrupted a dream of
Caer Dallben
she had been having, but he failed to persuade her that they were friends, and she fled from her room while crying out. Taran vainly hoped to halt the alarm, and followed her until
Magg
arrested him.
Gwydion, Fflewddur Fflam and Gurgi had entered the ruins as well; they got the better of struggle with Magg's guards, but the abrupt appearance of Achren with Eilonwy halted all action.
Community content is available under
CC-BY-SA
unless otherwise noted.